I hope you have had a fabulous Christmas! Many times we buy great, wonderful gifts and the box gets more play time than the toy. That's what happened to me the other day. I went on a home visit and took a box with puzzles.  My little guy emptied the box and climbed inside. He played in that box for nearly the entire visit.
Don't throw away that left over Christmas box. Have some good, cheap fun.
All you need is: box cutter, packing tape, and wrapping paper tubes
Your children can use: crayons, markers, paper, and glue to add flowers, dashboards, hub caps, and etc…
While I have given ideas below the main point is this:
Work with your preschooler! Talk to them about what they would like to build and create. Let them guide you. Remember it's not the product, it the process of creating the product that creates the learning.
Make an airplane.
This is a luggage box. Stand it on end and cut a flap that lifts up. Then using packing tape, tape it from under the flap, pulling it up, and fastening the tape on the top to make a wing.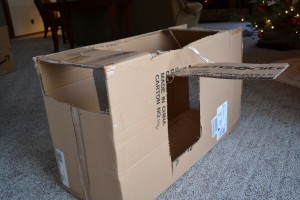 Cut a fin out of some cardboard and tape it to the back.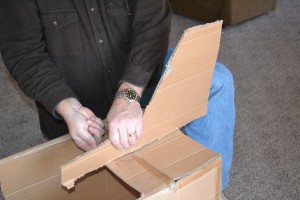 Cut an opening for the cockpit.  Cut a propeller from wrapping paper tubes, then tape them together.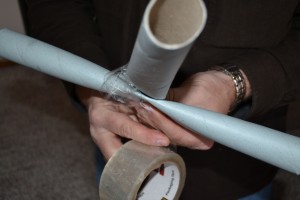 Then tape the propeller  to the front of the front of the plane.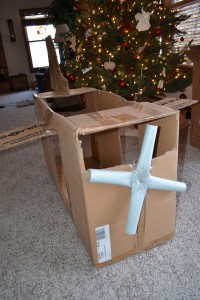 You can make a jeep!
Here is another suitcase box. Lay it flat on the floor. With a box cutter, cut out the windshield.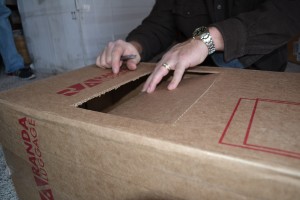 Fold it back so that it will stand up.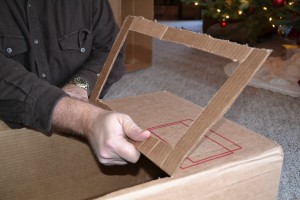 Cut the doors so you and your friends can climb in together.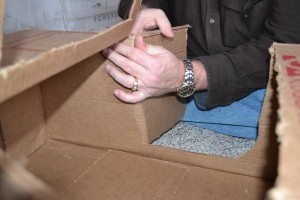 Using cups and plates add headlights and wheels.
Invite a friend to play.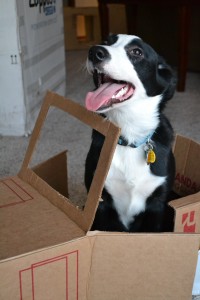 Build a house!
This is a large box that 2 pieces of luggage arrived in; however, you can use a dishwasher or stove box.
You can cut doors windows anyway you like. We made windows with a capital-I cut, so there would be shutters.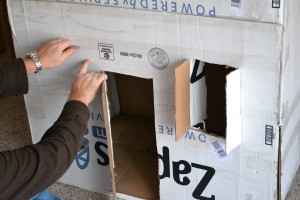 On the back we made a large flap with a window. I like the flap so things can be easily inserted and removed from the house. It also gives light and flexibility.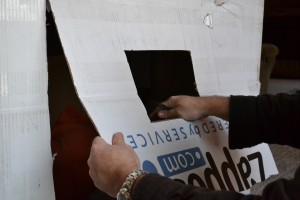 Throw some pillows and books inside for a great place to read!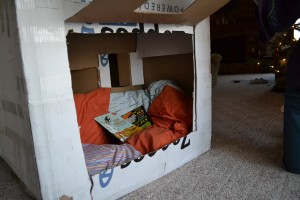 Your children can embellish, decorate all of the above creations using crayons, markers, paper and glue.
We had a great time on this beautiful snowy Christmas break day.  Here is my excellent crew!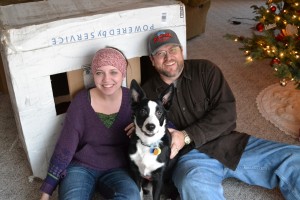 Have fun together!