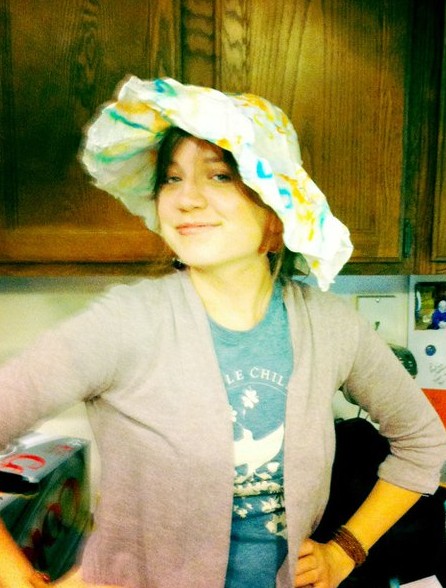 This spring we have had a delightful time making hats. The kind of hat we made depended on the child. There were pirate hats, Gilligan hats, sun bonnets, and hats for tea. I saw this activity at a conference I attended and it is in the School Discount Supply online catalog.
To make a literacy connection we read a variety of books depending on the age and interest of the child. We read "Mouse Paint" by Ellen Stohl Walsh; "Millie's Marvellous Hat" by Satoshi Kitamura; and "Red Hat, Blue Hat" by Sandra Boynton.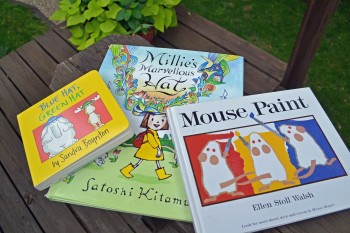 We had two different designs or approaches.
Design 1
We used giant coffee filters (called Texas Snowflakes from Discount School Supply); markers, a spray bottle of water, and masking tape.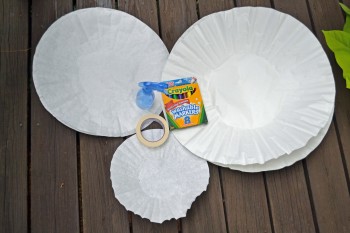 Write, scribble, and draw all over one of the giant coffee filters with markers.
The most difficult thing for my little ones was writing 'big'!
Then spray it lightly with water so that the colors bleed. It makes a great transformation activity.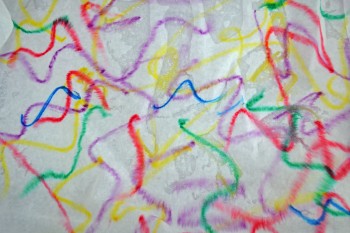 Let it dry. Once it is dry, place it on your child's head and take a length of masking tape to gather and fit it on his head. I would have them hold it with one hand while I fitted and taped it. (There is a photo below that kind of shows this.) This is the first hat that I made; and it is now scrunched and bunched, but it has easily survived being stuffed into my bags, lots of play, and traveling.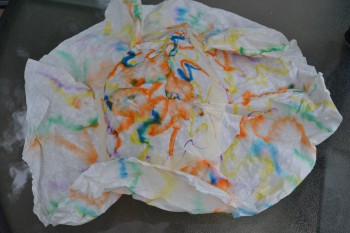 Hat Design 2!
All of the supplies are the same (giant coffee filters, masking tape) except that we used watercolor spray paint instead of markers and water. The liquid watercolor can be found at Amazon or Discount School Supply.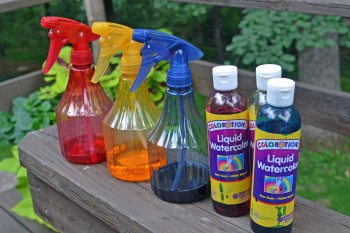 Take the giant coffee filter/Texas snowflake and fit it on your child's head (or if no child is available for pictures, fit it on your husband…if he is good sport like mine!!) gather it, and tape it with masking tape.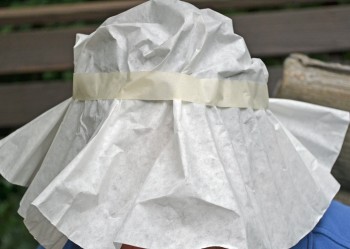 Squirt it with the watercolor spray paint. So fun!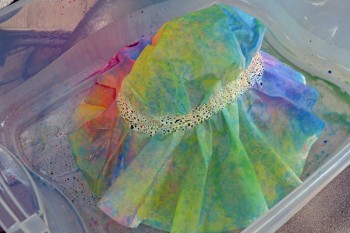 Let it dry. The paint will loosen the masking tape a bit if sprayed heavily, but if you let it dry completely, just press the tape into place and it should hold quite well. I've been surprised at how well my hats have held up. Once they are dry, you can scrunch the brim to adjust and make your own special design.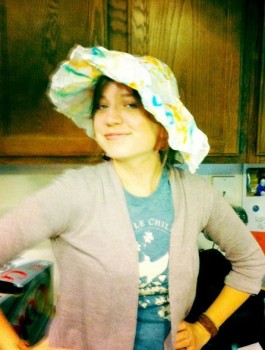 I love this girl!
~~~~~~~~~~~~~~~~~~~~~~
Books from Amazon!
~~~~~~~~~~~~~~~~~~~~~~~~~~~~~~
This post has been linked to Home School Creations and….