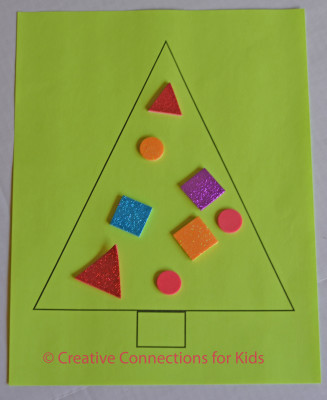 I hope you have been enjoying the Creative Christmas Countdown! Our international team of bloggers has done a fabulous job of sharing creative ideas, activities, crafts, and memory makers for the holiday season. I'm delighted to be a part this event and will be sharing a post on Christmas Eve; and it is ready!
Here are two more super simple activities to share with your children this last crazy week before Christmas.
I love triangle Christmas trees! They are easy for to make; and easy for kids to cut out. I have produced them in mass for my kids. I have older children cut out the trees. The long straight long are great for early scissor skills.
Activity 1 – Triangle Christmas Tree
You need:
Make a Christmas tree by drawing a triangle for the branches and a rectangle or square for the trunk (I used auto-shapes on Word.)
Foam shapes or stickers.
How to:
Decorate the tree with the shapes. That's it! This is great activity for younger preschoolers; older children can cut out the tree.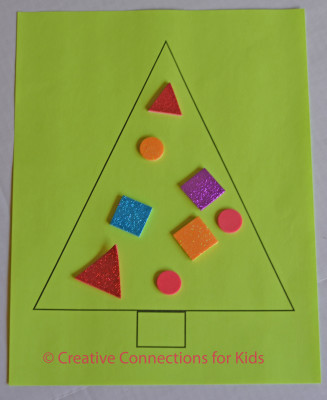 Activity 2 – Christmas Tree Math Game
This activity was found here at Kids Matter.
You need:
Make another triangle tree and just draw some circles on it
Pom poms
Dice, spinner, number cards (you can write some numbers on squares of heavy paper)
How to play:
Spin the spinner, roll the die, or draw a number card, put that number of pom poms on the tree. Repeat until the tree is decorated.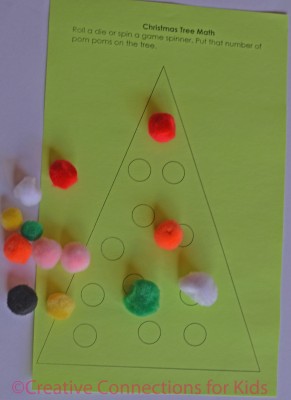 Have fun playing together!
~~~~~~~~~~~~~~~~~~~~~~~~~~~~~
For more ideas, activities, and resources follow Creative Connections for Kids on Facebook!
~~~~~~~~~~~~~~~~~~~~~~~~~~