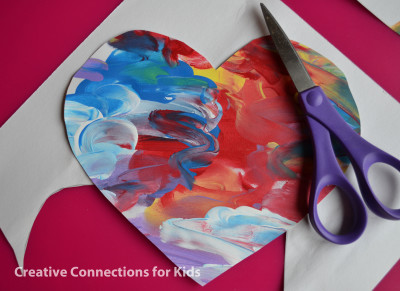 Do you need a simple, quick valentine creation that anyone can make? Our Valentine art is for you!
This post is also a Valentine Idea blog hop organized by Mama Peapod!
To create a Valentine that even toddlers can make you need:
paint
paper
scissors
markers or crayons
If you are painting with toddlers you might consider using CCK's edible finger paint recipe. This is just plain old non-toxic paint from a bottle: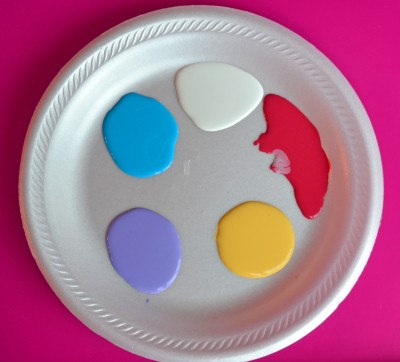 Paint! Your child's art won't look like this and that is wonderful! Let them create their own design.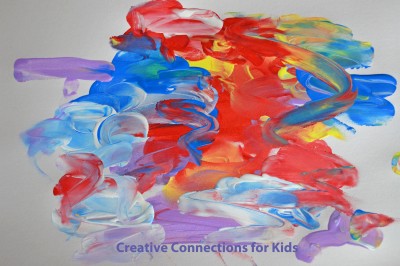 Once it is completely dry cut a heart from the paper; an older child can do this themselves: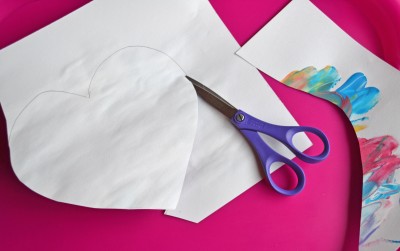 Have your child draw or write their valentine message on the back: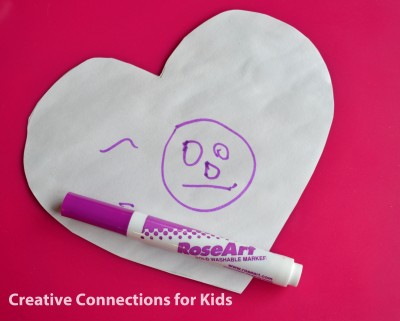 Turn it over and enjoy their creative endeavor.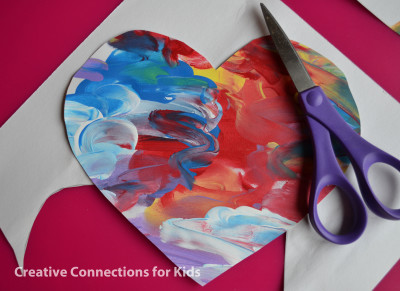 Who wouldn't love to receive a custom design from a little person?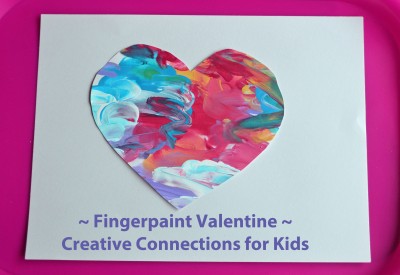 Blog Hop!
This activity is part of the Kid Blogger Network Valentine Activity Blog Hop.  It has been organized by Jane at Mama Peapod.  Thank you, Jane!  It is being hosted by the following wonderful group of international bloggers:
Mama Pea Pod, Let Kids Create, My Creative Family, Hands on: as we grow, La Dolce Vita: The Sweet Life,  AngeliqueFelix.com, The Golden Gleam, Teach Preschool, Critters and Crayons, Living at the Whitehead Zoo, The Iowa Farmer's Wife, Nurturestore, Kitchen Counter Chronicles, The Chocolate Muffin Tree, Jamie's Jumble, The Outlaw Mom Blog, Mama Smiles, The Mommies Made Me Do It, Dinosaurs and Octopuses, Mom to 2 Posh Lil Divas, Toddler Approved, Messy Kids, Rainy Day Mum, JDaniel4sMom, Glittering Muffins, Red Ted Art, Mommy and Me Book Club, Putti Prapancha, Dilly-Dali Art, Creative Connections for Kids, Mommy Labs, De tout et de rien: Activités pour le Préscolaire, Imagination Soup.net, Rockabye Butterfly, Classified: Mom, Kids Creative Chaos, A Mom with A Lesson Plan, PlayDrMom, RainbowsWithinReach, Living Montessori Now, Curly Birds, Growing A Jeweled Rose, The Home Teacher, A Little Learning For Two, Sun Hats and Wellie Boots, The Imagination Tree, Mummy Mummy Mum, Critters and Crayons, La-La's Home Daycare, Come Together Kids,Tinkerlab, Dirt and Boogers, Multiple Mummy.
Please share your lovely Valentine activity right here!