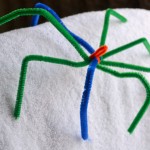 A most favorite activity is this pipe cleaner spider. It is super duper simple, but my kiddos absolutely love it!
All you need are four long pipe cleaners (chenille wires) and one short one.
First, take the short one, make a loop and twist it so that it holds. Then, at about half way, . . . Read More: Super Spider!