"Chicks and Salsa" is the perfect children's book for home-grown tomato season: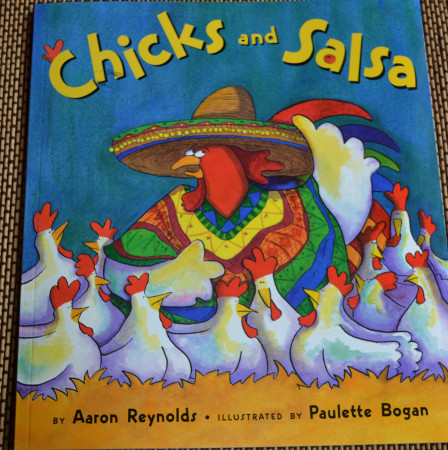 Kids love a super silly story and this one fills the bill. The illustrations by Paulette Bogan are bright and fun.
The chickens have become tired of their bland chicken feed and the solution to their problem is….salsa!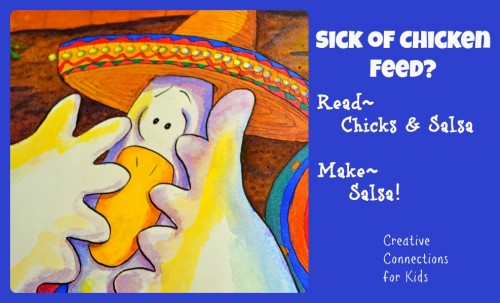 The perfect literacy connection to this story is to make some tasty salsa. There are recipes in the book for salsa and guacamole, but this is a mild salsa recipe that is a favorite.
Salsa for Chicks ~ the ingredients are simple and colorful:
They are tomatoes, parsley (or cilantro) red onion, jalapeño,  garlic, mango, an orange and green sweet bell pepper, garlic, roasted corn on the cob, salt, pepper, and cumin.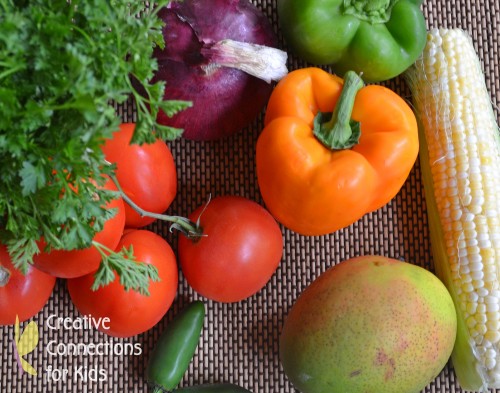 Chop your veggies and fruit.  Children can help where you are comfortable to have them assist. I leave the jalapeño for last. And honestly, I would not let a young child cut it up or handle it in anyway. It t is so easy to have burning fingers with just the slightest touch. I typically have burning cuticles or eyes before it's all over. This recipe is great because it is so healthy, colorful and tasty!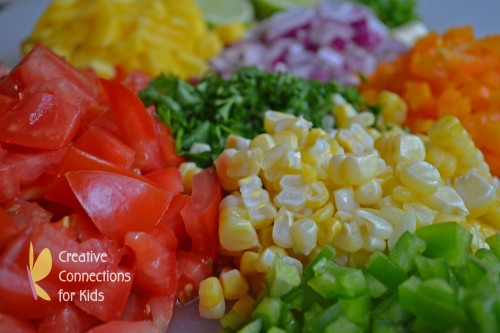 Pour the ingredients  into a bowl, stir, and serve with tortilla chips.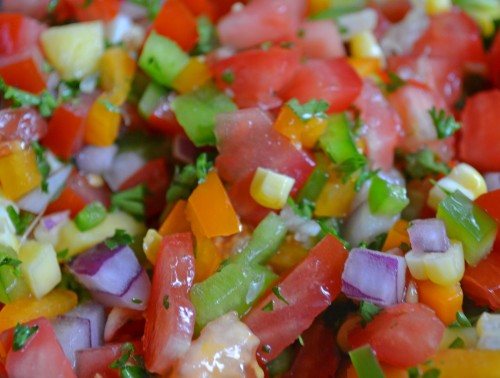 Cooking with kids is a fun way to teach life skills. You can talk about how the ingredients grow, where they come from, and how we use them.  If it is possible, grow a few vegetable or herbs of your own or visit a garden to see how they grow.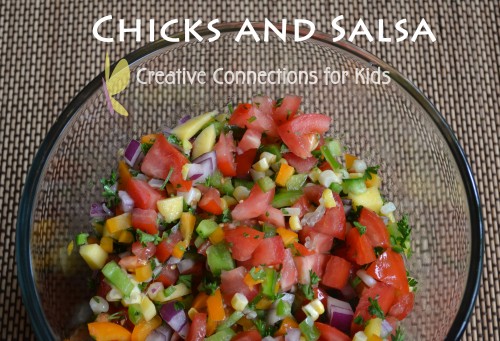 Have fun cooking together!
A printable of the recipe: Salsa for Chicks
On Amazon:

We would love to have you join us on Facebook!
CCK is pleased to be linked to these great sites:
JDaniel4′sMom – Read Explore Learn
Tots and Me  - Kids in the Kitchen